ENLOE DAM PROJECT CRITICIZED BY ENVIRONMENTALISTS
ENLOE DAM PROJECT CRITICIZED BY ENVIRONMENTALISTS
Five environmental groups say the state Department of Ecology didn't consider water quality standards when when it approved plans to rebuild Enloe Dam near Oroville, WA. Water quality is one of many considerations in a proposal by the Okanogan County, WA PUD to rebuild the Enloe Dam to generate electricity.
The PUD has been working for seven years toward restarting operations at the dam. The dam was built in 1920 but stopped producing power in 1959 when it became cheaper to buy from the Bonneville Power Administration.
The environmental groups claim that if the dam is rebuilt, it will nearly dry up the Similkameen (sim-IL'-ka-MEEN') River. The Wenatchee World reports the five groups have filed an appeal with the state Pollution Control Hearings Board.
http://seattletimes.nwsource.com/html/localnews/2018960972_apwacleanwaterenloedam.html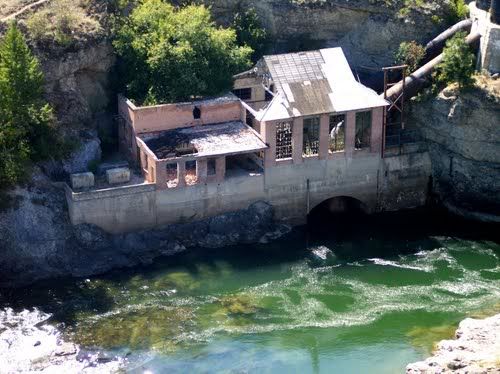 PUD UPDATES OROVILLE CHAMBER ON LICENSING EFFORTS FOR ENLOE DAM
Representatives from Okanogan County PUD made a presentation at the Oroville Chamber of Commerce on the utilities efforts to license Enloe Dam to once again generate hydroelectric power. The dam and powerhouse, which are about 3.5 miles up the Similkameen River from Oroville, have not generated power since the mid-1950s. The PUD has been trying to license the dam with a new modern powerhouse and generators, this time located on the opposite bank of the river.
http://www.cbbulletin.com/412876.aspx
********** ********** **********
The Okanogan Public Utility District obtained a new license for power generation from the Federal Energy Regulatory Commission in 1983, but the license was withdrawn in 1986 because the dam's impact on anadromous fish had not been addressed. A second license for a 4.1 megawatt plant was granted in 1996, but was again rescinded on the same grounds in 2000. Yet another application was submitted in August 2008, seeking to build a new powerplant to generate 9 megawatts, fed by a new intake channel
http://en.wikipedia.org/wiki/Enloe_Dam_and_Powerplant
********** ********** **********
ENLOE PROJECT ON SIMILKAMEEN RIVER NOT COST EFFECTIVE
"Okanogan PUD ratepayers are going to take a big hit for this expensive and unprofitable project," said Jere Gillespie of CBEP. "We are calling on the Okanogan PUD to replace its out-of-date 2008 analysis and provide ratepayers with a realistic evaluation of Enloe Dam economics. We think such an update will show that the dam project is not a wise investment for ratepayers and should be dropped."
http://www.americanwhitewater.org/content/Article/view/articleid/31286/
You can download the economic analysis here: http://www.americanwhitewater.org/content/Document/view/documentid/981/
********** ********** **********
photo credit:
Foster Fanning
http://www.panoramio.com/photo/46928609